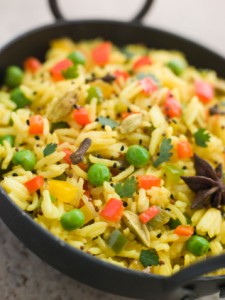 It may not yet look like it in many areas of the country, but summer has finally arrived! This means you can embrace all of the great menu options that summer offers, including a wide variety of fresh supplies from the garden. This healthy recipe for spring vegetable and quinoa pilaf is a great way to celebrate the arrival of the new season. (Recipe courtesy of Bon Appetit)
Ingredients – Spring Vegetable and Quinoa Pilaf:
1 3/4 cups low-salt chicken broth
1/2 teaspoon coarse sea salt plus additional for seasoning
1 cup quinoa, rinsed and drained 3 times
6 baby golden beets, peeled, cut into 1/3-inch cubes
3 tablespoons olive oil
2 garlic cloves, minced
1 cup 1/2-inch pieces orange bell peppers
1 cup 1/2-inch pieces red bell peppers
1/2 pound asparagus, trimmed, cut on diagonal into 3/4-inch pieces
1 cup 1/2-inch pieces trimmed baby zucchini (about 6 ounces)
Freshly ground black pepper
4 green onions, thinly sliced
1 tablespoon chopped fresh Italian parsley
Directions:
Bring broth and 1/2 teaspoon sea salt to boil in medium saucepan; add quinoa.
Cover, reduce heat to low, and simmer until quinoa is tender and broth is absorbed, about 15 minutes.
Remove from heat; fluff with fork. Cover and reserve.
Meanwhile, bring 1 1/4 cups water to boil in large nonstick skillet over medium heat. Add beets. Cover and cook until beets are tender, about 8 minutes.
Uncover; cook until any water in skillet evaporates. Increase heat to medium-high. Add olive oil and garlic; sauté 30 seconds. Add all bell peppers, asparagus, and zucchini. Sprinkle with sea salt and black pepper.
Sauté until just tender, about 8 minutes. Add cooked quinoa, green onions, and parsley to vegetables in skillet; toss to combine. Season with sea salt and pepper.
A healthy diet is just one half of a healthy lifestyle. You also need a good exercise routine. To learn about the fitness equipment we can offer for your Phoenix area home, contact Fitness 4 Home Superstore today.