Best Price Guarantee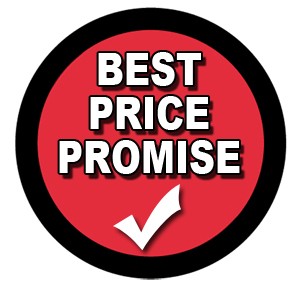 The Secret to Receiving Our Best Price:
Many manufactures institute what is referred to as MAP pricing, or "Minimum Advertised Price". This means the seller (Fitness 4 Home Superstore) cannot advertise those brands products below a certain dollar amount on their website. It doesn't necessarily mean we can't sell them below that price, just that we can't advertise them on our site below that price.
So, the best way to ensure you are getting our absolute best price is to visit one of our 3 Valley store locations! Not all products will qualify for a lower price, but it sure doesn't hurt to ask! (Read below for more details)
Best Price Guarantee Details
When you buy from Fitness 4 Home Superstore, you can be sure you're getting the very best price! We promise that you won't find a lower advertised price on any of our products. And, if you do happen to see a lower price advertised on a competitor's site, and it meets the requirements listed below, then we'll refund the difference to you in merchandise credits on Fitness4Home.com! Here's how it works.
To qualify for a Fitness 4 Home Superstore Best Price Promise credit:
The product with the better advertised price must be exactly the same make, model, color and condition as the one you purchased from Fitness 4 Home Superstore.
The seller offering the product must be an established business and an authorized dealer for that product, as determined by Fitness 4 Home Superstore and the product must be in-stock with that seller.
The product with the better price must be advertised on the seller's website at the better price so we can verify and view that the product is indeed being sold for a lower price. Verbal lower price offers made by competitors cannot be verified and therefore do not apply.
You must have purchased the product from Fitness 4 Home Superstore no more than 7 days before the day you apply for the credit.
Additional Terms and Conditions:
The credit applies to no more than any two identical products per customer.
The comparison may be applied only to established catalog and/or on-line sellers offering merchandise for a set price (no auction sites like eBay®), as determined at the discretion of Fitness 4 Home Superstore.
Price comparison applies to total cost of the merchandise price plus shipping and delivery charges. Meaning if there are additional charges for shipping from the seller, they must be factored in to the cost.
Price comparison does not include any special offers made by sellers, such as quantity discounts, free shipping, coupons, discount membership clubs or rebates.
Best Price Promise applies to no more than two different products per customer in any 30 day period.
The terms of this Best Price Promise are subject to change without prior notice, and the program may be terminated at any time, at Fitness 4 Home Superstores discretion.
If you have any questions regarding these services, please feel free to call us directly at: 866-987-8963 or by email at: info@myfitness4home.com. Or, feel free to talk to one of us directly at one of our three Valley area stores. Our stores are centrally located, and close to Gilbert, Tempe, Paradise Valley, Fountain Hills, Cave Creek, Glendale, Peoria, and Ahwatukee. Visit us at our stores in our I-10 Superstore, Phoenix, or Scottsdale, Arizona.