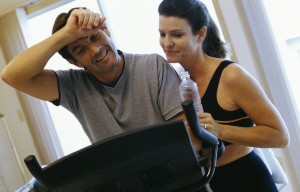 Want an effective way to get a new fitness routine off to a great start, or recharge an existing exercise plan? Recruit some other members of your family to be your fitness partners so you can all benefit from mutual encouragement and maybe even serve as each other's cheerleaders or drill sergeants when necessary.
Why family support is so valuable
Engaging in a new fitness routine is a great thing, but doing it solo is an experience that many people find lonely. That's why it can be helpful and rewarding to enlist family members or friends to join you in your exercise regimen. Spending any type of quality time together as a family is a good thing, but if you can choose an activity that also offers health benefits (both physical and mental), that's a very nice bonus. So it's a win-win for everyone involved, as you all get to improve yourself physically while also sharing some valuable time together.
Having any type of workout buddy can make exercise more enjoyable, and also makes it easier to get motivated and stay that way. But this is especially true when you exercise with your loved ones, as you each have extra incentive to support each other's lifestyle improvements. You want the people you care about to be healthy, and they feel the same way about you.
How to make things easier
There are some things you can do to make this family fitness plan more productive and increase the odds that you will all succeed. First of course, you can look for ways to make the process and activities more fun. Switching up your routines frequently and varying the specific activities will prevent boredom.
In addition, you should do your best to ensure that the activities and equipment are flexible enough to adapt to the needs and abilities of each member of your family group. Choosing fitness equipment that is designed for multiple users of different abilities and sizes will be a big help. It is also a good idea to look for equipment that is durable enough to stand up to heavy, frequent usage.
We have plenty of options for home fitness equipment that is ideal for family use in a residential setting. To learn about all of the home fitness equipment we can offer for your Phoenix area home, contact Fitness 4 Home Superstore.