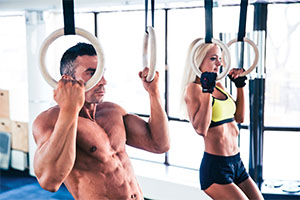 Do you know the best time for a workout? Everyone seems to have an opinion on this, and a particular time frame that they swear by to get the best results. If you are driving yourself crazy trying to find out exactly when you should embark on your workout, you are likely wasting a lot of mental energy needlessly. Don't bother trying to figure out that magical moment of the day when workouts will go perfectly. Check out our workout tip for choosing the best time to exercise.
No single right time
The truth is, there is no one single one-size-fits-all ideal time for a workout. The best choice for you personally will depend to a great extent on your own individual inner clock. We each have our own unique biological rhythm that dictates when we are most productive and feel most energetic. This is why some of us are morning people while others are night owls.
Assess your individual lifestyle
To identify the best time for your workout, analyze your own habits and rhythms. If you tend to struggle through a midafternoon slump, then that obviously wouldn't be a good time of day to head to the gym. It may be helpful to also coordinate your workouts with your eating habits, so you can capitalize on a surge of proteins or carbs to help carry your through your gym routine.
You also want to be realistic about your workout-related personality. If you tend to have trouble staying motivated to get to the gym, and often find excuses to skip workouts, you may be better off working out first thing in the morning, so you can get it done before you have a chance to procrastinate. This will increase your odds of sticking with a consistent workout routine.
Beware of late night workouts
While it's possible that you could be one of the rare people for whom late night workouts are a great fit, for most people this is one time of day when workouts probably aren't the best idea. For one thing, you likely won't be able or willing to devote sufficient time to the post-workout recovery tactics like stretching. You may also find that you are too worked up to get to sleep easily. Again, though, this is an individual thing, so if you really think you are a night owl, give it a try and see how it works for you.
Once you select a time for your workout, you need the right equipment. To get the best fitness equipment for your Phoenix area home, contact Fitness 4 Home Superstore.