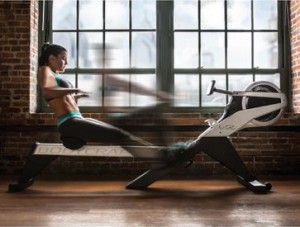 It seems like there are new types of fitness equipment popping up with increasing frequency. And while modern home gym machines with cutting-edge features certainly can offer many advantages, that doesn't mean you have to totally abandon the tried-and-true home workout mainstays. One popular example that has stood the test of time is the rowing machine.
Fitness fundamentals
Rowing machines have been a main staple of home gyms for a long time now. Today's varieties offer high-tech elements and a host of extra bells and whistles, but the basic idea remains the same. As it is easy to guess from the name, it boils down to a rowing movement. Obviously, this provides a great way to develop strength and definition in your arms and upper body. But many people are surprised to learn that rowing machines also offer a very effective total body workout. As a bonus, this is a great low-impact workout that's a terrific option for people who want to avoid excessive strain on their knees.
This can offer an easy way to burn significant calories in a short amount of time, while also toning a diverse group of muscles. Rowing machines are also designed to be strong and durable, and most models are space-friendly, and easy to move or store.
Lots of variety and options
We offer a wide assortment of rowing machines from top brands. The selection runs the gamut from simple and basic to the high-end, modern models that are sure to attract attention. Many of these models are ergonomically designed for the ultimate in user comfort and safety. Flexibility is also a common advantage, so the machines can be used by a diverse group of people with different goals and abilities.
High-tech features available include electronic monitoring to track important data about your workout, including distance, calories per hour, interval training, heart rate monitoring, interactive programming and more. There are even fluid rowers that are designed to provide the closest possible simulation to actually rowing on water.
To learn more about rowing machines or other types of cardio equipment for your Phoenix area home, contact Fitness 4 Home Superstore.