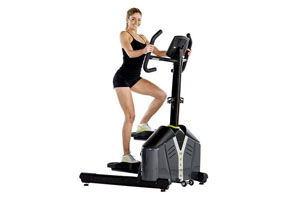 Like most people, you are probably way too busy and don't have a lot of time to spare. This means that you likely try to find the most efficient and productive way to approach anything you do. When it comes to getting the most out of your exercise time, one of the best ways to maximize your workout efforts is by using a lateral trainer.
How lateral trainers work
Traditional workout machines rely upon a front-to-back movement. By contrast, a lateral machine (as you may be able to guess from the name) takes a side-to-side approach. This may not seem like a huge change but there is a significant difference in the results you will see, and the effort you will have to exert in order to achieve those results.
Lateral trainers take advantage of body weight and movement in order to create increased resistance. Plus, you work an entirely different and expanded group of muscles when you choose a lateral machine. Research has shown that people who use lateral machines burn considerably more calories and see significant muscle benefits as opposed to using a traditional elliptical machine.
Lots of variety
As with many other types of home fitness machines, with lateral trainers you have a wide assortment of models and features from which to choose. There are various types of lateral machines designed to target specific groups of muscles, so you can choose the machines that will allow you to focus on the areas that are the highest priority for you. Within each category of lateral machine, there are also a wide assortment of features and options, allowing you to further customize your workout according to your own goals and preferences.
A new approach to workouts
The biggest advantage of using a lateral elliptical machine is the ability to get way more out of your workouts, and the chance to maximize your efforts. However, this can also be a great way to put a new spin on exercising and add some variety to your workouts. If you are the type that gets bored easily or hates falling into a rut, this may be a perfect solution for you.
Once you try using a lateral, we think you will join the legions of other people who are strongly loyal fans of this type of machine.
To learn more about our lateral trainers for your Phoenix area home, contact Fitness 4 Home Superstore today.