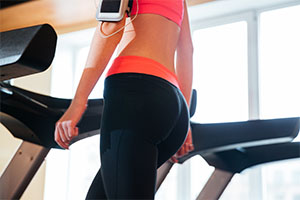 Phoenix Springs are Perfect for Treadmill Running
Spring is approaching, and soon, we'll be looking at those infamous triple-digits we get out here in Phoenix, AZ. For those of us who are serious about are running or need to get ready for a marathon, Ironman or Ultra in the fall, this is the time to start ramping up our training. Treadmill running is a great answer to the issue of getting in high mileage when the temperatures are just too unbearable to run in from a health safety standpoint; moreover, investing in a treadmill for your home not only is great way for you to maintain your training regimen, but will add more flexibility on when and how you can train, when going outside due to the heat or time of day just isn't feasible.
Interval training on treadmills
I know, you think running on a treadmill is boring and monotonous, but this is because many people don't use the many features that come with premium brands (TRUE and Precor), like the treadmill's interval training programs. Interval training is an essential part of any serious running program. Many times tracks are used for intervals because the runner knows exactly the distance he/she is running at all times. The wonderful thing about having a treadmill in your own home is that you don't need to go out and find a track that you can get access to – you always have access to your own treadmill, plus this machine is constantly letting you know exactly how far and fast you are running at any given time. The hard thing about doing intervals is being consistent with your pace – what a better way to make sure you are running the appropriate pace than by punching in the speed you need to run each of your intervals in and then jumping on the deck and moving!
Hill training on treadmills
You say you need some hill work in your training over the summer, but don't have time to go to mountainous terrain to do some hill repeats or elevated running? Again, treadmill running, like on the FreeMotion i11.9 Incline Trainer, can help you with both uphill and downhill running. And because the deck surfaces on treadmills like these do not have unstable footing, like you may get from running in the Phoenix, Arizona trails, the harder and safer you can run these workouts in.
How to work on proper pacing on your treadmill
Treadmill running is best for working on proper pacing. Many runners, even when wearing gps devices on their wrists, don't always maintain the proper pace that they are shooting for on their runs. Having a treadmill is a great way to fine tune your pacing. Just by inputting the correct mile pace you wish to run makes your workouts more efficient, safer and allows you not to over or under train.
Convenience of training at home on your treadmill
Work late hours? Need to go to work early? Too many errands and kids' commitments you need to take care of in the middle of the day? It's simply just too hot to get in a workout outside? Whatever the reason why you can't get outside to run, the answer is to purchase a treadmill for your running. You don't need to worry about the time of day, the temperature outside or if someone at the gym is eye-balling you to get next on the machine – this treadmill is yours and it's in your home – ready for you to take on any and all running challenges you decide to take on.
For more information about buying a treadmill or any other type of fitness equipment for your Phoenix area home, contact Fitness 4 Home Superstore today and we'll be happy to match you up with the perfect piece of exercise apparatus – cardio, strength, core or flexibility.