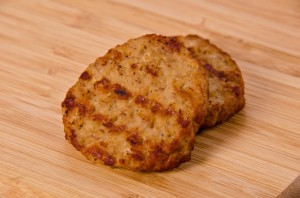 If you have a craving for a great sausage-based meal but don't want to sabotage your good eating regimen, we have the perfect solution. These turkey sausage patties are packed with flavor, and are surprisingly moist thanks to the pear (an apple or other type of fruit can also be used as a substitute). As a bonus, you can make a big batch of this healthy recipe and freeze some of the patties to use at a later time when you need a quick meal. (Recipe courtesy of epicurious.)
Ingredients:
3/4 pound ground turkey (not labeled "all breast meat")
1 medium Bosc pear (6 ounces), peeled, cored, and coarsely grated
1/4 cup chopped fresh flat-leaf parsley
2 tablespoons finely chopped fresh sage
3/4 teaspoon salt
1/4 teaspoon black pepper
1/4 teaspoon ground allspice
1 large egg, lightly beaten
Vegetable oil for brushing skillet
Directions:
Stir together all ingredients except oil in a large bowl until combined well.
Form 1/4 cups of sausage mixture into patties (3 inches in diameter; about 8 total) using moistened hands and arrange on a wax-paper-lined tray.
Lightly brush a 12-inch nonstick skillet with oil and heat over moderate heat until hot but not smoking.
Cook patties in batches of 4, turning over once, until browned and cooked through, about 6 minutes per batch. Transfer to a plate as cooked and keep warm, covered with foil.
These patties have 173 calories per serving and provide 17g of protein.
You can help cancel out the calories of this meal and some of the rest of your daily menu by getting a great workout. To learn more about the fitness equipment we can offer for your Phoenix area home, contact Fitness 4 Home Superstore.