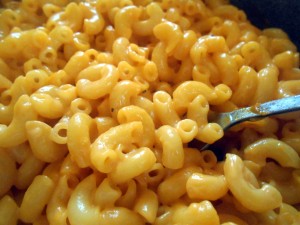 With any luck, winter will soon come to an end—an event that will be welcome relief to people in many parts of the country. But this is still a great time to enjoy some hearty and delicious winter dishes. And it's even better when you find a healthy recipe that is easy and convenient to prepare, such as those you can make in a crockpot. This slow cooker macaroni and cheese is sure to be a hit with the entire family. (Recipe courtesy of Culinary Cory.)
Ingredients:
3 cups pasta, uncooked
3 Tbl. butter, unsalted
8 oz. Velveeta cheese, cubed
1 ¼ cup sharp cheddar cheese, shredded
1 tsp. Dijon mustard
1 cup milk
½ cup heavy cream
1 tsp. salt
¼ tsp. pepper
Directions:
Cook the pasta in salted boiling water for 5 minutes or until it is just under al dente.
Drain and place in the slow cooker.
Add the remaining ingredients to the pasta and stir until well combined.
Cook on high for 2 – 3 hours stirring about every 30 minutes.
This mac and cheese is great comfort food that everyone will love. Burn off the calories from this meal and more by getting a great workout. To learn more about the fitness equipment we can offer for your Phoenix area home, contact Fitness 4 Home Superstore.