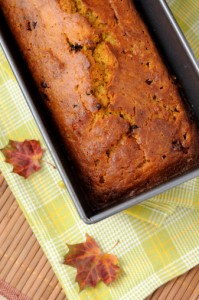 This is the time when pumpkin (and all sorts of treats and concoctions made with that flavor) seems to be everywhere. So why not give your bread a seasonal flair? Pumpkin bread is delicious and filling, and can go with a wide variety of meals and snacks. And when you use this healthy recipe, it can also be a smart diet choice. This particular take on pumpkin bread has a little extra kick, thanks to the special blend of spices and flavorings. (Recipe courtesy of Cooking Light)
Ingredients:
3 1/2 cups all-purpose flour
2 teaspoons baking powder
1 teaspoon ground allspice
1 teaspoon ground cinnamon
1 teaspoon ground nutmeg
3/4 teaspoon salt
1/2 teaspoon baking soda
1/2 teaspoon ground cloves
1 1/3 cups packed brown sugar
3/4 cup fat-free milk
1/3 cup vegetable oil
2 teaspoons vanilla extract
2 large eggs $
1 (15-ounce) can pumpkin
Cooking spray
1/3 cup chopped walnuts
Directions:
Preheat oven to 350°.
Lightly spoon flour into dry measuring cups; level with a knife.
Combine flour and the next 7 ingredients (flour through cloves) in a large bowl; make a well in center of mixture.
Combine sugar and the next 5 ingredients (sugar through pumpkin) in a bowl, and stir well with a whisk until smooth.
Add to flour mixture, stirring just until moist.
Spoon batter into 2 (8 x 4-inch) loaf pans coated with cooking spray, and sprinkle with walnuts.
Bake at 350° for 1 hour or until a wooden pick inserted in center comes out clean.
Cool loaves in pans 10 minutes on a wire rack; remove from pans.
Cool loaves completely; cut each loaf into 12 slices.
Each slice of this tasty bread has 160 calories and 4.7g of fat.
To complement your healthy diet, you also need to get the right amount of physical activity.  To learn about cardio equipment for your Phoenix area home, contact Fitness 4 Home Superstore.