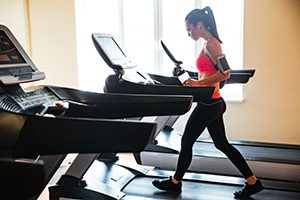 When it comes to home cardio solutions, Treadmills are one of many of types of cardio equipment to choose from. With all these choices, why should you consider a treadmill for your home?
Treadmills are effective for several reasons:
1. Convenient and accessible: Treadmills are available in most gyms, fitness centers, or even in some people's homes, making them easily accessible.
2. Low-impact workout: Running on a treadmill is a low-impact activity that can be helpful for people with joint problems or those who are recovering from injuries.
3. Controlled environment: Treadmills offer a controlled environment where you can vary the speed, incline, or resistance to customize your workout according to your fitness levels.
4. Burn calories and improve cardiovascular health: Treadmill running is a great way to burn calories and improve your cardiovascular health, helping you to lose weight and strengthen your heart.
5. Monitor progress: Most treadmills come equipped with monitors that track progress, including heart rate, speed, distance, and calories burned. This feature allows you to monitor your progress towards achieving your fitness goals.
Stop into any of Fitness 4 Home Superstore's three Phoenix area locations today – and check out our full selection of New and Pre-Owned Treadmills!