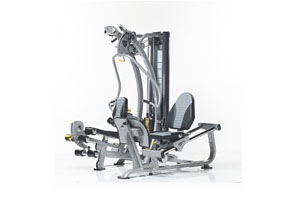 of your own home gym, you'll be looking at strength training at home. The perfect piece of equipment for this – is the TuffStuff SXT-550 – available at Fitness 4 Home!
The TuffStuff SXT-550 Multi-Station Gym may be the perfect home gym platform. When you go to a local gym, you have a multitude of different machines that are designed for specific muscles. Unfortunately, most homes don't have the room for a group of machines. The best choice for a home gym is a multi station gym – one that combines what you get at your local gym, all in one machine. One that provides a full body workout – and the TuffStuff SXT-550 accomplishes this by combining traditional pressing stations with the legendary TuffStuff Six-Pack functional training gym!
The SXT-550 combines popular functional training with a traditional pressing station. You also get adjustable seat height and telescopic seat back adjustments. Not only is this great for your upper body workout, it also provides comfort for your lower body workout as well.
And, the SXT-550 does provide you an exceptional leg workout! You get a combination seated leg extension / seated leg curl station, along with 6 preset pulleys in three separate training zones duplicating the legendary TuffStuff Six-Pack Trainer Gym. All of this in a space efficient, forward facing exercise design.
If you're familiar with the Apollo series of equipment at your local gym, you've experienced the quality and functionality of TuffStuff's equipment. On the SXT-550 Multi Station Gym, for the first time, TuffStuff has made available their Apollo Series Commercial Leg Press design as an option for this incredible gym. Now you can experience a commercial level leg press on the most premium home gym ever made by TuffStuff!
Features
Adjustable seat height and seat back.
Leg extension and standing leg curl with low pulley and adjustable foam leg rollers.
Adjustable press and row bar.
Mid pulley station.
Unique "Radius" frame design that represents TFI quality and craftsmanship.
200 lbs. center drilled steel weight stack.
Home Lifetime Warranty on all parts
SXT-LP Leg Press Option: 
Custom convex footplate provides neutral ankle and knee alignment during exercise.
Adjustable 6-position ergonomic seat carriage with 2" polyurethane rollers riding on 2″ diameter hard chrome seat rails for smooth and precise motion.
2:1 ratio provides 400 lbs. of weight resistance.
Visit any Fitness 4 Home Superstore location to try this uniquely engaging and versatile piece of equipment.