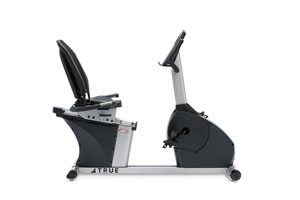 If you're on a budget, yet you desire a recumbent exercise bike that is also built to a high quality standard, take a look at the TRUE PS50R Recumbent Bike. TRUE PS exercise bikes combine commercial quality materials with smart design for an overall package that is unbeatable in performance and durability in the home fitness equipment market. Featuring walk-through design,
The TRUE PS50R Recumbent Bike provides easy access, perfect for beginners or those recovering from an injury. These machines reduce back stress and offer simple programming, making exercise at home an easy and enjoyable process.
The walkthrough design on the TRUE PS50R Recumbent Bike accommodates users of all fitness levels. TRUE bikes are safe and allow for easier access on and off the machine. TRUE's new mesh seat is ergonomically designed for lumbar support and allows for infinite adjustment to fit every body type and relieve painful stress on the hip. The mesh material also provides excellent ventilation during exercise.
TRUE's superior brake and drive system ensure a smooth motion and quiet operation that is perfect for your home gym. The TRUE PS50R Recumbent Bike combines performance and ease-of-use with TRUE quality.
TRUE HRC Cruise ControlTM allows you to lock in on your targeted heart rate. Once your target is entered, one touch TRUE HRC Cruise ControlTM will adjust speed and incline automatically throughout the duration of your workout to maintain your target heart rate.
Built with commercial grade materials, The TRUE PS50R Recumbent Bike is built with the finest components for extreme durability. Coupled with a great warranty and service plan, you know that your bike will stand up to years of heavy use.
Stop into any of Fitness 4 Home Superstore's three Phoenix-area locations and check out the TRUE PS50R Recumbent Bike today!