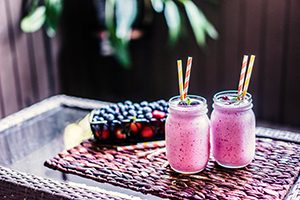 This dessert is packed with antioxidants, tastes great, and won't sidetrack your diet.
One of the biggest problems with diets – is what do you do when your sweet tooth is craving desert? What can you do to satisfy that craving, without crashing the diet you've worked so hard to maintain? Try this nutritional powerhouse that is full of antioxidants and omega fatty acids while eliminating processed sugar and dairy!
Acai (ah-SIGH'-ee) bowls are made of frozen fruit with the main ingredient being a wonderful South American berry called Acai. This berry has a rich purple color and packs antioxidants and omega fatty acids that help facilitate your gym gains. And though they might not be on your regular grocery list, acai berries aren't hard to find. The berry's antioxidant content far surpasses that of most fruit, which makes it excellent at fighting free radicals to help keep your body functioning at its peak level.  This fruit is also high in fiber, so it will make you feel full as it helps regulate your blood sugar levels – a must if you're trying to lean out.
Healthy Acai Bowl Ingredients
1 scoop vanilla protein powder
​1 packet of frozen acai (can be found at grocery stores that specialize in whole and natural foods)
1/4 cup of coconut water (less or more depending on how thick you want your base)
1/4 cup to 1/2 cup granola (as much or as little as you like)
1/2 frozen banana
1 cup frozen mixed berries
4-5 strawberries, sliced
1/2 banana, sliced
1/4 cup blueberries​
In a blender, add coconut water, acai packet and all frozen fruit. Blend until desired consistency. It should be on the thick side. Pour mixture into a bowl, and top with fresh fruit and granola. Optional – you can also add a drizzle of honey for a bit of extra sweetness.
Totals (1 serving): 522 calories, 8g fat, 83g carbs, 28g protein