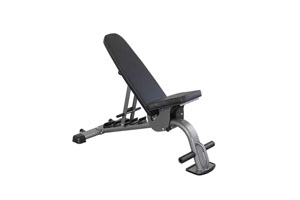 The Legion Fitness Equipment – LC-FID Flat Incline Decline Bench is the perfect balance of comfort, durability, and versatility. The back pad can easily be adjusted between 7 different levels, and the seat pad incorporates three different positions to accommodate multiple exercise positions. The Legion Fitness Equipment – LC-FID FID Bench is the perfect bench for your home strength training workouts.
The LC-FID's 11 gauge frame will withstand even the most aggressive workouts. Heavy duty main pad thickness is designed to keep you securely positioned while also comfortable – this thick & durable upholstery holds up in any setting. Rear transport wheels with a front transport handle make the FID Bench very easy to move. The perfect match for dumbbell workouts, smith machines, squat racks and power racks, the FID Bench is an essential bench for your home workouts!
A quality adjustable weight bench is a foundational piece of home gym equipment. When combined with a power rack and a barbell with weight plates, you have bare-essentials weight training equipment needed to pursue and achieve your physique and strength goals.
And with the LC-FID Flat Incline Decline Bench, you get unmatched versatility for your workouts. Where traditional benches have uprights that can get in the way when attempting dumbbell exercises, adjustable benches are obstruction-free and perfect for using dumbbells.
Legion Fitness Equipment is a specialty manufacturer of strength and cardio conditioning equipment, including rowers, weight benches, racks, functional trainers, and weight storage racks. Founded in 2022, Legion Fitness Equipment is dedicated to providing customers with premier-grade yet affordable fitness equipment options
Visit any of Fitness 4 Home Superstore's three Phoenix-area locations and experience the Legion Fitness Equipment – LC-FID Flat Incline Decline Bench!