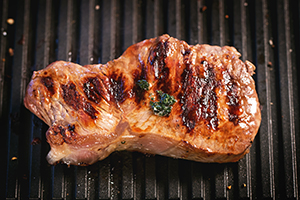 Looking for a great summer meal for your family, that is low in fat, easy to make, and tastes great? Try our recipe for Beef Steak with Roasted Sweet Potatoes, Broccoli & Mushrooms
INGREDIENTS (4 SERVINGS)
2 cups Broccoli
2 cups Sweet Potato
3 Cloves Garlic
Olive Oil
Salt
Fresh Black Pepper
16oz Beef Steak
1 ¼ cups Mushrooms
1 cup Low Fat Cream
COOKING INSTRUCTIONS
Preheat oven to 200°C (390°F). Next, wash and dry the broccoli and cut the florets off the stalk. Add broccoli to a large bowl. Cut the sweet potato into even sized cubes and add to broccoli. Drizzle olive oil over the broccoli / sweet potato mix, lightly coating the mix. Toss mix to distribute the oil.
Place broccoli and sweet potatoes on a foil-lined baking tray in a single layer. Sprinkle with minced garlic, salt and fresh black pepper, and bake for 12-14 minutes or until the sweet potatoes are tender and the broccoli is lightly browned on the tips.
Heat up a pan with a bit olive or coconut oil or cooking spray. Grill the steak and add the mushrooms.
Take the steak out and put it on a plate to rest for a few minutes. Let the mushrooms fry for a few minutes. Put the mushrooms on a plate. Put the low fat cream in the pan on a low fire, let it thicken.
Serve the steak with mushrooms and put a bit of the thickened cream over it, as a side dish serve the roasted sweet potato and broccoli.
Nutritional Information per serving: 299 Calories, 5g Fat, 29g Carbs, 36g Protein
Source: thefitnessrecipes.com