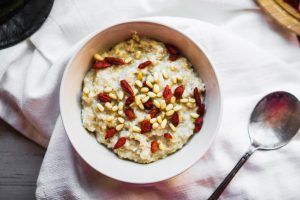 It's that time of year where everything seems to have pumpkin in it. And, many of the "pumpkin-spice-whatever" recipes out there are, well, less than healthy. Here's a recipe that's easy to make, under 400 calories per serving, and has a nice pumpkin spice taste – all while also being a great healthy breakfast or snack. Try this recipe for Pumpkin Spice Oatmeal!
Pumpkin Spice Oatmeal
Serving Size: Serves 1
Ingredients
1/2 cup (122 g) low-fat milk
1/4 cup (60 g) water
2/3 cup (50 g) quick oats
3 teaspoons (15 g) canned pumpkin puree
1/4 teaspoon (1.5 ml) vanilla extract
Dash of salt
Dash of pumpkin pie spice
1/2 tablespoon (10.5 ml) honey
1/2 tablespoon dried cranberries
Directions
Combine milk and water in saucepan and heat over medium-low heat for 2–3 minutes. Add remaining ingredients, except for the honey, and stir until well combined. Allow the oatmeal to simmer for 2–3 minutes. Add honey and garnish with the dried cranberries.
Nutrition Information – Calories: 284; Total Fat: 5g; Saturated Fat: 1g; Monounsaturated Fat: 1g; Carbohydrate: 45g; Dietary Fiber: 5g; Sugar: 17g; Protein: 13g