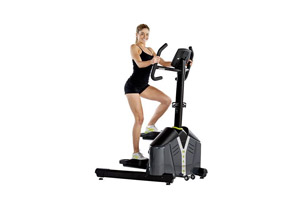 More than likely you're familiar with the benefits of treadmills, as well as elliptical trainers and exercise bikes for your cardio workouts. Each of these types of cardio equipment give you a good workout, especially for your legs. But, each of these types of equipment work your legs in one direction. Yet, the fitness industry keeps innovating, and the newest innovation is lateral training. Here's why you should consider incorporating lateral trainers into your home cardio workouts.
Traditional cardio equipment trains your body on one plane, normally forward and backward. Lateral trainers work your legs from side to side in multiple planes, in a full 360°. You'll activate more muscles, get a better workout, and best of all – burn more calories in less time!
At Fitness 4 home Superstore, we carry lateral trainers from both Helix and TRUE Fitness. Lateral training equipment was first developed by Helix Fitness, and they've licensed the technology to TRUE fitness as well. With two types of lateral trainers – upright and recumbent – you're sure to find a lateral trainer that fits your fitness requirements. And, you'll find that there are plenty of benefits to using a lateral trainer, including:
Product Benefits:
360° Results: Unlike other cardio machines, the HR1000 Recumbent Lateral Trainer works the total lower body as it builds aerobic conditioning.
Glutes: The machine's intense focus on the Gluteus Maximus and Medius yields dramatic toning benefits.
Quads: Helix provides a zero-impact, yet powerful Quad workout.
Knees: Helix maintains and improves knee and hip functionality by safely targeting and strengthening the muscles that support these joints.
Stability/Fall Prevention: Provides strength and cardio conditioning in an ergonomic, seated position, enabling everyone, even the injured or "decoditioned," to make great strength and fitness gains.
Inner Thighs: Helix does what traditional cardio machines can't, creating up to 42% greater activation of the Adductor muscles.
Outer Thighs: Sculpts the hard-to-target outer thigh by creating up to 43% more Abductor muscle activation than a traditional cardio machine.
Stop into any of Fitness 4 Home Superstore's 3 Phoenix-area locations, and learn more about Lateral Trainers today!