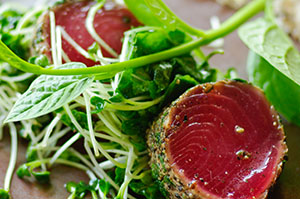 Protein is an important component to muscle growth. And, even if you're wanting to stay lean, you still want to replace fat with muscle, as muscle not only takes up less space than fat, but muscle is a fat-burning machine that can keep that fat off of you later. If you're looking to eat lean, and want to up your protein intake, seafood is an excellent source of lean protein.
And, eating more seafood as part of a balanced diet can reduce your risk of heart disease. Try this recipe as one way to add some seafood to your diet!
Seared Tuna with Avocado Salsa
1 cup halved grape tomatoes
1/2 cup sliced red onion
3 tbsp chopped fresh cilantro
2 tbsp fresh lime juice
3/8 tsp salt
1/2 tsp freshly ground black pepper
2 avocados, peeled and diced
2 garlic cloves, minced
1 jalapeño pepper, seeded and finely chopped
2 tbsp lower-sodium soy sauce
2 tsp dark brown sugar
Cooking spray
4 (6-ounce) tuna steaks
Combine first 9 ingredients in a medium bowl. Then, combine soy sauce and brown sugar in a small bowl, stirring until brown sugar dissolves. Reserve 1 tablespoon soy sauce mixture. Heat a grill pan over high heat. Coat pan evenly with cooking spray. Add steaks to pan; cook 2 minutes on each side or until desired degree of doneness, basting steaks frequently with soy mixture. Remove steaks from grill pan; drizzle with reserved 1 tablespoon soy mixture. Serve fish with salsa.
Whether tuna is eaten as a thick steak or as the budget-friendly canned kind, it makes a great source of lean protein and omega-3 fats. Because of toxin accumulation, the United States Environmental Protection Agency (EPA) and the Food and Drug Administration (FDA) caution against albacore tuna for pregnant women—canned light tuna is a better choice.
Source: MyRecipes.com