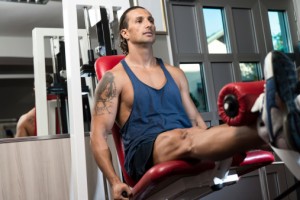 Strength training is extremely popular with a wide variety of people, from hardcore athletes to those who just want to improve their stamina and build muscle. This type of training generally involves a gradual increase in weight and a variety of exercises specifically geared to target certain muscle groups and develop them in a way that builds power.
Benefits of strength training
Obviously, as the name implies, this type of training is designed to help you increase strength. However, contrary to popular misconception, this isn't just for bodybuilders, pro athletes or those who want to perform impressive feats of brute strength. Almost everyone can benefit from improving strength. This helps your overall health and conditioning, improves your muscle tone and can help prevent injury.
The exact type of strength training that's the best fit for you will depend on your goals and the activities for which you need strength. There are special types of training programs designed for bicyclists, runners and of course weight lifters, among many others. Of course, this isn't necessarily for everyone, particularly those with physical limitations or injuries. As always, it's best to check with your doctor or fitness adviser before starting any type of new training routine.
Strength equipment options
You have lots of choices when considering fitness equipment designed to help with your strength training program. The products we offer in this category include home gyms, functional trainers, power cages and racks, weight benches, body weight stations and more. As you can see, this runs the spectrum from very basic (hand weights and barbells) to the more sophisticated (cross training machines).
With so many available options, you can choose the product(s) that are the best fit for you. Space and budget are often important factors that must be taken into consideration. Many people choose to start with the basics like weight sets and then step up to the bigger and more expensive pieces of equipment. Assembling a home gym with different types of individual pieces can help you get a great overall workout, focusing on alternating groups of muscles at different times.
To learn about all of the strength equipment we can offer for your Phoenix area home, contact Fitness 4 Home Superstore today.