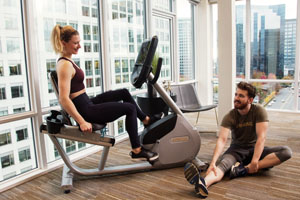 With this current COVID-19 health crisis, forcing many to not only stay at home, but with gym closures, miss their workouts, many have been forced to change the way the exercise, or give up exercise completely. Here's why exercising at home is not only important, but some reasons why even after this crisis has passed, home workouts may be a better choice.
The main reason why gyms have been closed, is to help minimize the spread of infection. And with the Centers for Disease Control and Prevention's guidelines to put six feet of distance between you and other people, that can be difficult in many gym locations.
Even after this health crisis has passed, it's not just the COVID-19 virus you need to be concerned about at your local gym. With the number of people that frequent your local gym on a daily basis, there's no way for the gym staff to disinfect every piece of equipment after each use, and it's not realistic to expect that other gym members will bring disinfectant wipes to clean equipment, either. Working out at home, not only do you not have to worry about other people carrying diseases to infect your gym equipment, you're also in full control over how clean you keep your equipment. In short, when it comes to infectious disease, your home gym is always going to be safer than your local gym.
Additionally, since physical activity improves not only your moods, but it also helps reduce stress and anxiety. With all the stress over the fear of illness combined with remote working, and the anxiety surrounding what may happen with jobs and the economy, exercise is important to keep your mind healthy, along with your body. Plus, exercise can act as an anchor for organizing your day. And, physical activity is also important for supporting healthy immune function, which can help you fight off infection.
With current stay-at-home orders, it's way too easy to settle into the couch and binge eat. Which then leads to weight gain, as well as a loss of strength, muscle tone, and cardio endurance. Continuing an exercise program is important to keep those issues at bay. The World Health Organization recommends 150 minutes of moderate intensity or 75 minutes of high intensity physical activity per week, or a combination of both. You can achieve this at home just as easy as you did at your local gym – it only takes a bit of creativity and planning.
There are plenty of online exercise classes on YouTube, apps for your phone or tablet that can guide you through simple workouts that can keep your activity levels up. And, there are plenty of different types of fitness equipment that will fit your home, and give you a full workout that can make working out at home that much easier.
At Fitness 4 Home Superstore, we carry a full selection of cardio equipment, strength training equipment, and fitness accessories that can help you get the most out of exercising at home. And, we also carry pre-owned fitness equipment – great if you're on a budget. Stop into any of our three Phoenix-area locations, and check out what we have for exercising at home.