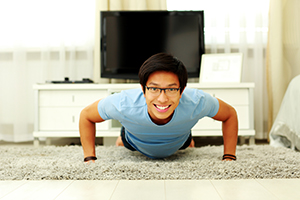 For what you spend over time at your local health club, it's possible to put together a home gym. Creating the perfect home gym doesn't have to be difficult or expensive. And, you can do it in stages so you don't hurt your budget. All while continuing to get a great workout!
Essential Home Gym Equipment
TRX Suspension Training Kit – There's a reason half the gyms in America have some version of the TRX suspension training system: It's the ultimate body-weight workout. You'll also save a ton of valuable floor space. This is a great "first piece" of gear that you can also travel with.
PowerBLock Adjustable Dumbbells – With a set of these adjustable dumbbells, you can get a great strength workout, without taking up a lot of space in your home gym. You can add on later, a PowerBlock Urethane Barbell with them for standard barbell workouts as well.
Balance Trainer – With choices ranging from a Bosu Balance Trainer to a Vicore Terra Core. Exercises that work on balance and stability help prime the nervous system, re-educate the muscles, condition the joints, activate and strengthen core muscles, and improve the user's awareness of overall body alignment and posture.
Rowing Machine – Getting a full body cardio workout, while taking up little space – is easy with a rowing machine like the Eschelon Connected Rower. Rowing machines are among today's most popular fitness machines and are one of the best "total body" workouts you can do at home with just one piece of equipment.
Home Gym – As your workouts progress, you may want to get a full body strength workout. A home gym, like the Tuff Stuff SPT-6X Six-Pak Trainer – is a great way to get full body strength workouts without taking up valuable floor space in your home gym.
Stop into any of Fitness 4 Home Superstore's three Phoenix area locations to see our full selection of home fitness equipment. We carry the industry's top cardio & strength equipment – for creating the perfect home gym.