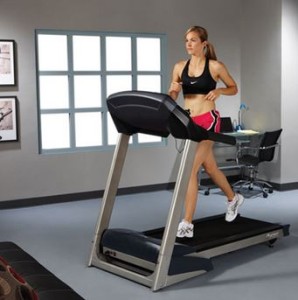 Treadmills are one of the most popular types of home fitness equipment—and are possibly the most common home fitness purchase. However, there are so many different types of treadmills available that it can become overwhelming to try and figure out which one is best for you.
To help make things a bit easier, we thought we would spotlight a few good choices that we can recommend as far as the best treadmill options. Obviously, no one treadmill is right for everyone and the best selection for you will depend on a number of factors including your budget and the features that are most important to you. But we think these machines would be a good place to start when comparing your options.
Spirit XT285: Our most affordable machine is a good starter treadmill, or a wise option for someone who needs a basic machine that doesn't require a lot of space. We also recommend this as a good choice for those who already have a walking routine and want to transition to running.
True M50: A great option for people who are short on space, the M50 has a sleek and compact design yet still provides all of the performance and features you want. It also offers TRUE HRC Cruise Control™, which lets you indicate your target heart rate and then adjusts incline and speed throughout your workout to help you maintain that goal.
Precor TRM 243: Want a commercial-grade model that offers the ultimate in convenience? This is one to consider. With 23 preset workouts and Precor's SmartRate target zone feature, this machine lets you enjoy a serious cardio workout in style.
True PS800: If you want a lot of room to move, this machine is a great choice for you. It features one of the largest running surfaces available, combined with several features designed to give you the most comfortable workout with minimal shock and strain.
Of course, this is just a small sampling of the large selection of treadmills we have available. One of our specialists would be happy to help suggest the best treadmills for your goals and needs.
For more information about treadmills for your Phoenix area home, contact Fitness 4 Home Superstore today.