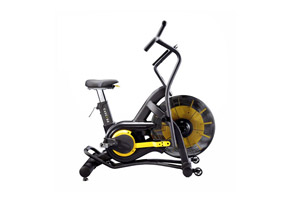 Whether you've been using an air bike at your local gym, been involved in High Intensity Interval Training (HIIT) sessions, or you've just been hearing that they are great for cardio, you may be wondering what are air bike benefits, and what are your purchase options?
Unlike a spin bike, recumbent bike or upright bike, an air bike is pretty simple – instead of a flywheel or front wheel, you have a big fan. And, the faster you spin the pedals, the more air that fan has to move, automatically creating more resistance. Speed up – more resistance, slow down, less resistance. You get a very linear workout. And, unlike other bikes where as you work out, the hotter you get (dripping sweat while working out) – you get a cooling effect against that with an air bike – that big fan moves so much air, you feel cooler, helping your workouts.
Plus, an air bike gives you a total, low impact workout. Since an air bike has moving handles as well as pedals, you get a workout similar to an elliptical trainer, without impact or jarring your joints. This is great for those that are out of shape, have previous injuries or issues that affect your joints, or are older and want a workout that is comfortable, yet effective.
It's much easier to control your resistance on an air bike. With other types of cardio products like treadmills or ellipticals – there are no buttons to push, no dials to turn, to change your resistance. Just speed up or slow down. That's it!
At Fitness 4 Home Superstore, we carry air bikes from Cascade Health & Fitness – stop into any of our three Phoenix area locations to experience the benefits of an air bike!