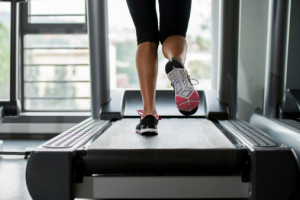 We're all pressed for time. And, thanks to our busy schedules, it can be hard to find time to workout. Especially when trying to find time to get a long workout in, well, that time just isn't there. And that doesn't get you anywhere close to meeting your fitness goals. You might have thought about doing an interval workout to save time and still get a workout in. But, what is better? Interval workouts? Or long cardio workouts?
New research is showing the benefits of high-intensity interval workouts. In a head-to-head contest, men who had previously been inactive exercised on stationary bikes 3 times a week for 12 weeks. Of those men, half did a 10-minute interval workout that included 3 sets of 20-second sprints separated by two minutes of recovery at an easy pace. They also did a 2-minute warmup and 3-minute cool down of easy pedaling.
The other half, they cycled at a moderate, steady pace for 45 minutes, with a warmup and cool down period of 5 minutes, for a total of 50 minutes.
And, at the end of the 12 week study, both of the groups improved their VO2 max (which measures cardiorespiratory fitness), by an average of 19 percent, along with significant improvements to their muscle heath as well as insulin sensitivity – and also reduced their body fat by around 2 percent.
The study author, Martin Gibala, Ph.D., a professor of kinesiology at McMaster University, believes that short bursts of intense activity creates the same changes to your cardiovascular system as longer, easier stretches of exercise like the slow, 50 minute cardio workout.
When you do a longer workout, you'll burn more fat over that 50 minutes that you will during the short interval routine. But, the "after-burn" effect from high-intensity exercise is much greater than the slow burn during long stretches of exercise.
So, don't avoid a workout just because you don't have an hour for a long cardio session. 10-15 minutes of high-intensity exercise is not only just as good – but if it means you don't miss your workout – you'll ve even closer to your overall fitness goals!