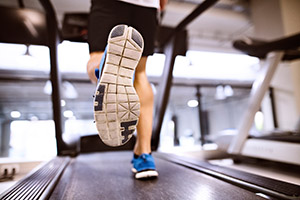 Cardio training is a great way to not only get back into shape, but also loose weight. But, it can be hard to know where to start. How long should you exercise? What is a good workout to start with? Here's some tips for cardio training for beginners.
Tip #1 – Talk To Your Doctor – Before you start a cardio program, you should talk to your doctor first. You need to make sure your body can handle the stress of starting a cardio training program. Your doctor can help you understand what your limits are, and what types of exercises to avoid, before you start your program.
Tip #1 – Just Start! – Just get moving! Go for a short walk. Do some sort of activity that gets your heart rate up and your breathing going a bit faster. If you've not done any kind of cardio recently, just getting moving will not only help your motivation, but also start to train your body to deal with the stress of a training program. Just start slowly, and as you get accustomed to regular exercise, you can look at adding new stress to your body to keep your progress moving forward.
Tip #3 – Again – Start Slowly! – Begin slowly and progress gradually. Start out with 5-10 minutes each day. You could even do 2-3 sessions of 5-10 minutes of cardio exercise each day and slowly build up to performing 30-60 minutes, 5-7 days of the week.
Tip #4 – Choose Cardio Activities You Would Enjoy Doing. – Do you hate running, but love to hike? Then create an exercise program where you do different hikes for distance, elevation, or both. If you like running, but hate running outdoors, get a treadmill – then create workouts for running on your treadmill at home.
Tip #5 – Listen To Your Body. – Just keep in mind that you can always work up to longer sessions as you get use to exercise. Pushing to hard when you first start your cardio training program can result in muscle soreness that kills your motivation, or injury that would stop your program.
At Fitness 4 Home Superstore, our three Phoenix area locations are stocked with the fitness industry's top lines of cardio equipment. Whether you're looking for a treadmill, elliptical, rower, or exercise bike – our staff of professionals can help you find the perfect piece of equipment for your cardio training program!