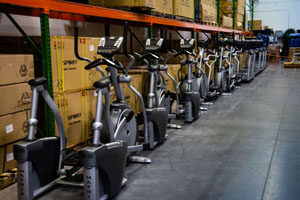 At Fitness 4 Home Superstore, we carry a full range of new fitness equipment from a number of the industry's top fitness equipment manufacturers. But, what if you're interested in used fitness equipment?
We occasionally acquire used cardio equipment and strength equipment. With the commercial side of our business, there are times we acquire fitness equipment that may have been used in small health clubs, colleges, and multi-family housing properties. When we get inventory from these sources, we go over the equipment, ensure everything works properly, replace worn items, and then offer this equipment at a substantial discount over new equipment.
Benefits of Used Fitness Equipment
First of all, you can either save money over new exercise equipment, or get more / upgraded features over new. You also may find equipment from brands that you're used to, but that we don't normally carry as one of our new equipment brands. And, many times the equipment we've acquired from our commercial clients may have had a maintenance program associated with it – so the equipment may last quite awhile after you purchase it, even though it may be a few years old.
Disadvantages of Used Fitness Equipment
At Fitness 4 Home, all of our used fitness equipment is sold as-is, with all sales final. You're buying something that has been used for awhile, and there are no guarantees as to how long it will last or how well it will work. There's also the possibility that it will be difficult to find parts for it in the event something does break down. If this is something you're concerned about, we always recommend purchasing equipment new, as new equipment won't have parts that have worn down, and they come with a full manufacturer warranty. Finally, used equipment is older – and may not have all the features new equipment has, including features such as Bluetooth connectivity, touch screens, or more advanced training programs.
One last thing to keep in mind. At Fitness 4 Home Superstore, we also offer fitness equipment financing, which can help make that piece of new fitness equipment affordable for your budget. Combined with a full manufacturer warranty, you may find that new equipment is a better choice for you than a used piece of gear.
Whether you choose new or used equipment, our team of fitness equipment professionals can help you find the best piece of equipment to fit your fitness goals. Stop into any of our three Phoenix area stores today to view our selection of new equipment – or visit our website's page for Used Fitness Equipment to check out our current inventory of used equipment at our Camelback and I-10 Superstores. Our used equipment moves fast, and our inventory changes often, so feel free to call us regarding equipment availability today!