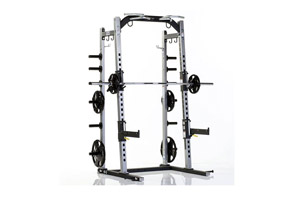 At Fitness 4 Home Superstore, we're dedicated to providing our customers with the fitness industry's highest quality home gym equipment. Today, we're spotlighting the TuffStuff PXLS-7910 Half Rack.
The TuffStuff PXLS-7910 Half Rack, is specifically designed to have a common basic frame structure and configuration that will allow interchangeability of modular components, features, and accessories. The Pro-XL's modular design allows you to select from a variety of options and features to custom design a gym to fit a particular training regimen or strength conditioning program.
The TuffStuff Pro-XL Series has been built to satisfy the evolving needs of today's athletes. The PXLS-7910 Half Rack is a training system engineered to accommodate any strength program or conditioning protocols that an athlete may encounter.
The TuffStuff PXLS-7910 Half Rack combines heavy weight frame components and TuffStuff's exclusive features like – integrated anchor loops to securely anchor suspension straps and assistance tubing used for bodyweight training. Swing Lock J hooks and Lever Lock safety rails adjust in 3-inch increments to quickly and easily accommodate all size users. Narrow width "thick grip" frame connectors are designed to minimize contact with weight plates during overhead lifts and also functions as an advanced pull-up station. The TuffStuff Pro-XL Series of Sports Performance Racks & Platforms – equipment to accommodate your fitness needs.
Want to learn more about the TuffStuff PXLS-7910 Half Rack? Stop into any of Fitness 4 Home Superstore's three Phoenix area locations, and check out not only this Half Rack, but our full selection of strength training equipment for your home gym!