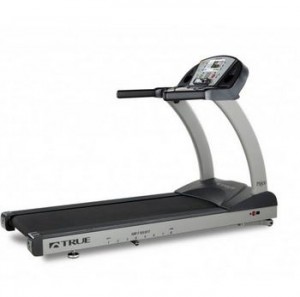 We have many great treadmills available here at Fitness 4 Home, but we know it can sometimes be tough to figure out which one would be best for you. It can also be a challenge to try and keep track of all of the particular features and options each particular machine can offer.
To help make things easier, we thought it would be helpful if we occasionally spotlight a specific machine and tell you a bit more about why it might be the perfect choice for you. This month, we are highlighting the True PS800.
Form meets function
The True PS800 is the perfect combination of style and performance. It has the stylish look of a fancy piece of commercial equipment, and offers the quality and durability that users demand from machines at a gym. Yet it is designed with the convenience and features that residential users really appreciate, but rarely find in a machine designed for home use.
This model offers one of the largest running surfaces in the industry, and also includes handrails for safety and stability.
Along with safety, comfort is also a big priority with this machine. It is biomechanically designed for the ultimate in orthopedic comfort and support. The TRUE Soft System allows for shock absorption for improved softness and comfort, while the Soft Select option lets you choose the surface firmness that feels most comfortable for you.
Long lifespan and impressive features
This treadmill is also designed to be a lasting investment. Its high level of quality makes it durable and strong enough to withstand long periods of heavy use. In addition, its reversible deck further extends its lifespan. The great warranty and service plan offer additional support to help this machine provide many years of use.
The True PS800 is also packed with features, including high-tech elements that really enhance your workout. You can easily monitor your progress by tracking a variety of important data points via the bright and easy to read LCD screen. The True HRC Cruise Control lets you designate your target heart rate and helps ensure you achieve and maintain the level you are seeking.
This is just one of the many great treadmills we have available. To learn more about all of the treadmill machines we can offer for your Phoenix area home, contact Fitness 4 Home Superstore today.