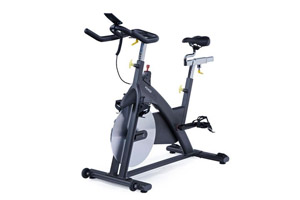 At Fitness 4 Home Superstore, we're proud to announce the availability of the new Cascade CMXPro Power Exercise Bike. With the CMXPro Power, you'll enjoy a high quality magnetic group exercise bike with a power meter that delivers exceptional performance, motivating training feedback, and long life durability. The Cascade CMXPro POWER indoor cycle with SMARTECH lets you train with power, for top cycling performance to meet and improve your personal indoor cycling and fitness goals.
The CMXPro Power also features Cascade's BLUETOOTH/ANT+ Power Console. This console records workout data with the ALA Fitness App on your iPhone, and has an easy to read backlit screen that displays watts, heart rate, calories, resistance, speed, cadence, distance, time and clock. ANT+ technology sends out data for applications to read. Also includes wireless heart rate monitor.
Incorporating this power data is a key way to target the exercises that will maximize your gains and ensure you get the most our of every session. You'll receive strong feedback, letting you know just how much you're improving by using the CMXPro Power indoor cycle.
The Cascade CMXPro Power Indoor Cycle also includes:
SMARTECH Wired Power Console
HR Monitor/Strap
Dual Sided SPD Pedals
16 Levels Of Adjustable Resistance At Your Fingertips (Lever)
Want to learn more about the Cascade CMXPro Power Exercise Bike? Stop into any of Fitness 4 Home Superstore's three Phoenix-area locations and experience this incredible indoor cycle!