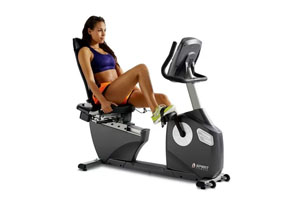 If you're looking for a recumbent exercise bike that combines quality, comfort, and performance, but at a reasonable price, here at Fitness 4 Home Superstore, we highly recommend the Spirit XBR55 Recumbent Bike from Spirit Fitness. Comfort, convenience, familiarity, enjoyment, and medical conditions are a few reasons this model appeals to a large segment of the population. And, reviews of the Spirit XBR55 say it all! The Spirit XBR55 received a "Best Buy" rating in Consumer Digest!
Durable, comfortable, and smooth are all qualities of the Spirit XBR55 Recumbent Bike. Easy adjustments, a cooling fan, high density foam seat, challenging programs, 20 levels of resistance, and a bright LCD display are all standard. Numerous electronic features can be found on the XBR55 including an oversized bright blue backlit display, Quick Speed and Incline console keys, wireless HR strap included, remote resistance handlebar toggles, and multi-color LED displays for identifying muscles activated and monitoring your heart rate.
And, the XBR55 also works with the SPIRITFIT App! The SPIRITFIT App connects to your Treadmill, Bike or Elliptical via Bluetooth. You can view current workout data in three different Display screens on your device. Easily switch back and forth from the workout display view to internet/social media/email sites via icons on the display screen. When your workout is finished, the data is automatically uploaded to your personal calendar for future reference. And, the SPIRITFIT can share workout data to HealthKit, Fitbit, Record, MapMyFitness, Facebook and Twitter.
Stop into any of Fitness 4 Home Superstore's three Phoenix-area locations today, and try out the Spirit XBR55 Recumbent Bike – discover why this is the perfect bike for your home exercise program!