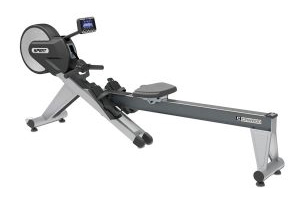 When you decide to improve your health, your first step doesn't have to be pounding the pavement on a grueling, long-distance run. If you join a gym, regular rowing workouts are an ideal way to work toward maximum physical fitness. Using a rowing machine can help to build and tone your muscles, strengthen your cardiovascular function and increase your stamina. Rowing machines are particularly effective for older fitness enthusiasts because they place no strain on your back and joints. And one of the best rowing machines for your home workouts is the Spirit XRW800 Rower.
The Spirit CRW800 Rower combines a long list of high performance features with a reliable design. From the convenience of the 20" frame height and folding storage \ design to the combined air/magnetic resistance and remote handle controls, the CRW800 is sure to impress. It is the perfect addition to your home because the ease of use and resulting unparalleled full-body workout are second to none.
The advanced monitor is sophisticated yet easy-to-use. Utilizing the large 5.5" blue backlit display, all of the workout data is highly visible and well organized for easy reference. To eliminate the need to pause your workout to adjust the level of resistance, the CRW800 incorporates an advanced wireless remote system that allows you to adjust resistance on-the-fly with just your thumbs on the pull handle. In addition to the clearly defined display segments, the center display scans between program profile and 500m time.
Product Highlights
Air and magnetic resistance (16 levels) for smooth and consistent operation
Wireless remote handle controls allow quick changes to resistance
Fold up frame design for easy storage
Commercial grade handle strap is both smooth and reliable
Solid steel frame with aluminum monorail
Durable stainless steel fan cover
Flex pedals with easy adjust numbered settings
Adjustable console angle and height for the perfect viewing angle
Using a rowing machine is a great way to loose weight, improve your cardiovascular fitness, and reduce stress. Stop into any of Fitness 4 Home Superstore's three Phoenix area stores and try out the Spirit CRW800 Rower today!