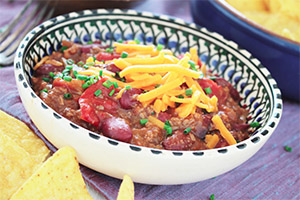 Whether you have digestive issues that preclude you from eathing meat, or avoiding meat is a lifestyle choice, it's still important to get adequate protein in your diet. And, if you exercise, it's that much more important to make sure your muscles have enough protein to rebuild and grow with. Here's a simple, yet tasty recipe for Pressure Cooked Vegetarian Chili that packs plenty of protein as well!
This recipe is designed for use in an pressure cooker like the Instant Pot – it's simple to prepare, with only a few ingredients, and it can be prepared quickly as well.
Ingredients for Vegetarian Chili
Cook Time – 30 Minutes. Makes 11-12 cups.
2 cups chicken broth
1 1/2 cups quinoa
1 large onion, diced large
2 bell peppers, seeded and diced large
1 (28-ounce) can diced tomatoes
1 (4-ounce) can diced green chili
1 1/4 tablespoons chili powder
1 (15-ounce) can black beans, drained
1 (15-ounce) can kidney beans, drained
1 (15-ounce) can pinto beans, drained
Salt and cayenne, to taste
Optional – diced jalepenos (to taste – the more you add, the hotter it gets!)
Shredded cheddar cheese to garnish
Directions
In your pressure cooker, combine all ingredients in the order they appear. Secure the lid and lock. Cook on chili/bean setting or on high pressure for about 15-20 minutes. Quick-release, carefully remove lid, and stir until all ingredients are thoroughly mixed. Salt and/or sprinkle cayenne pepper to taste. Serve and garnish with shredded cheese.
If you have any leftover shili, put it in an air-tight container, and refrigerate for up to 5 days. Flavor will improve each day as the spices sink into the ingredients.
Nutrition (per serving)
Calories: 340
Protein: 21g
Carbohydrates: 60g
Fat: 1g