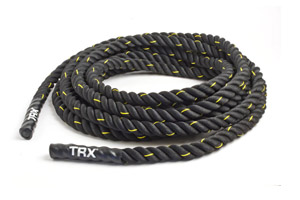 If you're HIIT or CrossFit workouts need something extra, have you thought of adding a conditioning rope to your workout? At Fitness 4 Home, we're proud to announce we now carry the TRX Battle Rope.
A staple tool for high-intensity workouts, the TRX Battle rope will take your training to the next level, whatever your goals. TRX Conditioning Ropes are sold individually in lengths of 30 and 50 ft.
The TRX Battle Rope is perfect for cardio-pumping and core-engaging slams, waves, jacks, throws and pulls that work your entire body. This battle rope features comfortable rubber grips keep you holding on, no matter how hard you sweat, and the heavy-duty, tightly braided construction won't fray or break.
The Battle Rope not only sets up easily in the home but anywhere else as well — it fits snugly into gym bag and you can anchor it to any smooth, round surface to crush a workout in the park on a sunny day or the hotel gym while you're on the road.
Come into any of Fitness 4 Home Superstore's three Phoenix-area locations and check out our full selection of conditioning ropes, along with our full collection of fitness accessories for your home gym.