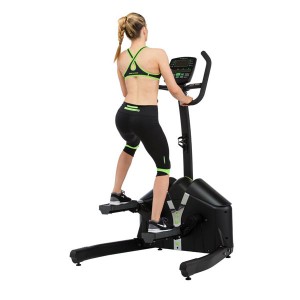 What is a lateral trainer? Think of it this way. Most machines work front-to-back. Helix Lateral Trainers turns this motion on its side— literally. With lateral (or side-to-side) movement, you use more muscles, which means you burn more fat than during a traditional workout– in the same amount of time. Science proves it. Plus Helix's patented motion tones your butt, core and inner/outer thighs better than old-fashioned cardio machines.
Lateral Trainers Move Side to Side – Not Front to Back
Unlike an elliptical trainer that only works the front and backs of your legs, working out on a Helix Lateral Trainer sculpts the entire lower body 360°.
Scientific results have shown that when comparing a Helix Lateral Trainer to a leading elliptical trainer, the Helix outperformed the elliptical on 4 out of 5 muscle groups. And, the Helix provided 50% more core activation, 50% more outer thigh activation and 39% more glute activation.
When you work out on a Helix Lateral Trainer, you'll find you achieve your target heart rate faster than other types of cardio equipment. And, with that, you'll also activate more muscles as well – so you get a better workout in less time!
Looking for Sculpted Legs and Glutes? Helix Lateral Trainers Work Better!
55% More Core Activation
If you're looking to build a toned midsection, it's almost impossible to accomplish that on a treadmill, bike, stepper or elliptical. With a Helix Lateral Trainer, your core muscles are continually targeted throughout the entire cardio workout.
40% More Glute Activation
On a lateral trainer, you work the total leg: front, back, and sides. All of this translates to incredible glute sculpting.
50% More Outer Thigh Work
The lateral motion you find on a Helix Lateral Trainer focuses on the total leg, including the outer thighs.
Protect and Strengthen Your Knees
A Helix Lateral Trainer actively strengthens and protects your knees by targeting a muscle that other cardio machines ignore: the Gluteus Medius, a key supportive muscle for the knees. Plus, there is zero pounding, zero impact on joints.
And, Helix Lateral Trainers aren't just for those beginning their cardio workout program. Some of the most elite athletes in the world use Helix in their training protocol, including world-class ice hockey franchises and one of the MLB's top all-time most winning baseball teams.
Fitness 4 Home Superstore carries the full line of Helix Lateral Trainers, ranging from the Helix H1000 all the way up to the Helix HLT3500. And, for a limited time, Helix is offering additional extended financing terms through Sychrony Bank, including 0% Special Financing O.A.C. this May. So, stop into any of our three Valley locations, and try out on of Helix's Lateral Trainers – and experience a cardio workout like you've never experienced before!