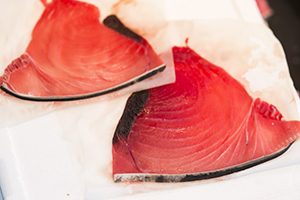 Part of a healthy diet is getting plenty of high-quality protein in your diet. And, one great source of protein is Ahi Tuna. Ahi tuna, also known as yellowfin tuna, is popular in raw fish dishes in Asian cuisines. Although it's packed full of nutrients – each 6 oz. serving has over 40 grams of protein – it can be slightly higher in mercury than other forms of tuna. Because of this, the Hawaii State Department of Health recommends limiting your servings to twice per month. So, one of those times, try this recipe for Marinated Ahi Tuna.
Ingredients
2 tbsp balsamic vinegar
2 tbsp soy sauce
1 tbsp grated fresh ginger
1 clove minced garlic
1 green onion, thinly sliced)
1 tsp lemon juice
2 6-8 oz fresh, sushi-grade ahi tuna steaks (3/4-inch thick)
Directions
Mix balsamic vinegar, soy sauce, ginger, garlic, green onions and lemon juice together in a large bowl.
Place tuna steaks in bowl with the marinade, cover tightly and refrigerate for at least an hour.
Heat a non-stick skillet over medium-high to high heat. When the pan is hot, remove tuna from the marinade and sear them for 1 minute to 1½ on each side for rare tuna (keep on heat longer if you want the tuna cooked more thoroughly).
Remove from pan, and slice into 1/4-inch thick slices. Serve alone, atop a bed of lettuce or with brown rice.
Serving Size: Serves 2
Nutrition (per serving): Calories: 213, Protein: 51g; Fat: 2g, Carbs: 3g