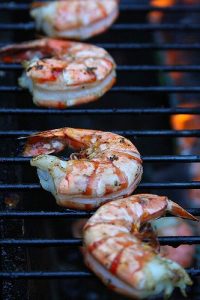 Here's a hot & spicy recipe for grilled shrimp – not only a great source of protein, but this recipe also gives you a little bit of healthy fat from the olive oil. Serve with your favorite steamed veggies!
Ingredients
2 lb. shrimp – peeled
1 cup chopped fresh cilantro leaves
1c chopped garlic – peeled and lightly crushed
1 tbsp peeled and roughly chopped ginger
1 jalapeno pepper, stemmed & seeded, and roughly chopped
1 tbsp Dried red pepper flakes
¼ cup extra virgin olive oil
Fresh lime juice from one lime
Salt & Pepper to taste.
Mix the cilantro, garlic, ginger, pepper, red pepper flakes and oil in a blender – puree until smooth, adding oil to keep things from getting too gooped up. Stop the machine and scrape down the sides as needed. Move to a bowl, and add salt & pepper. Thin the mixture with the lime juice. You can either use immediately, or cover & store in the refrigerator for up to a day (but bring back to room temperature before serving).Grill the shrimp until done, serving immediately with the salsa.
Makes 4 servings.