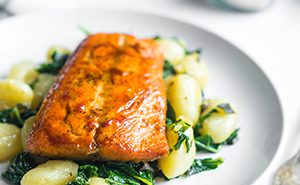 It's important to get lean protein into your diet on a regular basis! When it comes to weight loss, exercise is only part of the process – the other part is your diet. Getting regular amounts of high-quality, lean protein is important for a number of reasons. First, protein takes more energy to digest than carbs or fat, and the more calories you burn during the day, compared to the calories you take in, means you'll loose, rather than gain weight. And, you need protein to help rebuild your muscles after a workout. One of the best ways to get lean protein in your diet is to add fish to your meal plan a couple of times a week. Here's a great grilled salmon recipe for two – low fat, low carb, high protein – and high flavor!
Grilled Salmon & Zucchini
1/3 cup sliced almonds, toasted (see Tip)
1/4 cup chopped jarred roasted red peppers
1/4 cup halved grape tomatoes, or cherry tomatoes
1 small clove garlic
1 tablespoon extra-virgin olive oil
1 tablespoon sherry vinegar, or red-wine vinegar
1 teaspoon paprika, preferably smoked
3/4 teaspoon salt, divided
1/2 teaspoon freshly ground pepper, divided
1 1/4 pounds wild-caught salmon fillet, (see Note), skinned and cut crosswise into 4 portions
2 medium zucchini, or summer squash (or 1 of each), halved lengthwise
Canola or olive oil cooking spray
1 tablespoon chopped fresh parsley, for garnish
Cooking Directions
Preheat grill to medium.
Prepare almonds, peppers, tomatoes, garlic, oil, vinegar, paprika, 1/4 teaspoon salt and 1/4 teaspoon pepper in a food processor or blender until smooth; set aside. Coat salmon and zucchini (andor summer squash) on both sides with cooking spray, then sprinkle with the remaining 1/2 teaspoon salt and 1/4 teaspoon pepper. Grill, turning once, until the salmon is just cooked through and the squash is soft and browned, about 3 minutes per side. Transfer the squash to a clean cutting board. When cool enough to handle, slice into 1/2-inch pieces. Toss in a bowl with half of the reserved sauce. Divide the squash among 4 plates along with a piece of salmon topped with some of the remaining sauce. Garnish with parsley, if desired.
Nutritional Information Per Serving (Serves 4)
280 cal., 13 g total fat (2 g sat. fat), 66 mg chol., 601 mg sodium, 8 g carb. (2 g fiber), 32 g pro.