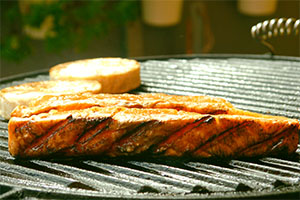 Easy Grilled Mahi Mahi Recipe – simple and delicious way to prepare white fish. Served with grilled asparagus or other vegetables of your choice.
Ingredients:
4 mahi mahi fillets
2 tablespoons olive oil
2 cloves garlic, minced
1 teaspoon paprika
1/2 teaspoon dried oregano
1/2 teaspoon salt
1/4 teaspoon black pepper
Juice of 1 lemon
Lemon wedges, for serving
Fresh parsley, for garnish (optional)
Instructions:
Preheat your grill to medium-high heat.
In a small bowl, combine the olive oil, minced garlic, paprika, dried oregano, salt, black pepper, and lemon juice. Mix well to make a marinade.
Place the mahi mahi fillets in a shallow dish or a resealable plastic bag. Pour the marinade over the fillets, making sure they are evenly coated. Allow the fish to marinate for about 15-30 minutes at room temperature.
Once the grill is hot, lightly oil the grates to prevent sticking. You can use a brush or a paper towel dipped in oil.
Remove the mahi mahi fillets from the marinade, letting any excess marinade drip off. Place the fillets on the grill and close the lid.
Grill the mahi mahi for about 4-5 minutes per side, or until the fish is opaque and flakes easily with a fork. Be careful not to overcook it, as mahi mahi can become dry if cooked for too long.
Once cooked, remove the fillets from the grill and transfer them to a serving platter. Squeeze some fresh lemon juice over the top and garnish with fresh parsley, if desired.
Serve the grilled mahi mahi hot with lemon wedges on the side. It pairs well with rice, grilled vegetables, or a fresh salad.
Enjoy your delicious grilled mahi mahi!