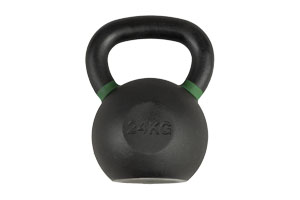 With the craziness of the last few year, one of the hardest products to find have been kettlebells. Now at Fitness 4 Home Superstore – we now carry from Fitness Products Direct, their line of Powder Coated Kettlebells!
These kettlebells feature a matte powder coating, which provides superior grip compared to glossy enamel and resists chipping. When enamel chips on those "other" kettlebells, that chipped enamel can cut into your hands. With these Powder Coated Kettlebells – this won't ever be an issue!
Single-cast for maximum durability, so you'll never have to be concerned about a welded on handle breaking – no welds – no breaks! These kettlebells also feature Machined flat bottoms. Many cheaper kettlebells will not have flat bottoms, making kettlebell pushups, L-sits, and renegade rows nearly impossible.
Color coded rings at the base of the handles make it easy to spot the weight of the kettlebell. Fitness Products Direct Powder Coated Kettlebells are marked in both pounds and kilograms, so no need to convert!
Available in the following sizes: 4kg White, 6kg Dark Blue, 8kg Pink, 12kg Light Blue, 16kg Yellow, 20kg Purple, 24kg Green, 28kg Orange, and 32kg Red
Call any of our three Phoenix area locations, or stop in and check out these new kettlebells from Fitness Products Direct today!