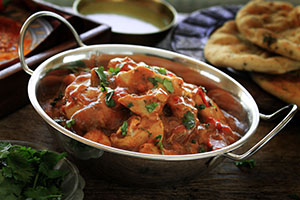 Looking for a easy, yet healthy chicken recipe? Try this one for Curried Chicken with Mango Salad! If you don't want to heat up your kitchen you can cook the chicken on the grill instead; grill on high heat, 6 to 8 minutes per side. Make it a meal: Serve with a fragrant brown basmati rice.
4 servings, 1 thigh & about 1/2 cup salad each
Active Time: 30 minutes
Total Time: 45 minutes
Ingredients
1/2 cup low-fat plain yogurt
2 tablespoons mango chutney
2 teaspoons garam masala (see Note) or curry powder, mild or hot
4 bone-in chicken thighs, (1 3/4-2 pounds), skin removed, trimmed of fat
1/2 teaspoon kosher salt, divided
1 mango, diced
1/4 cup finely diced red onion
2 tablespoons finely chopped fresh mint
2 tablespoons red-wine vinegar
2 teaspoons brown sugar
Preparation
Position rack in upper third of oven; preheat broiler. Coat a broiler pan with cooking spray.
Whisk yogurt, chutney and garam masala (or curry powder) in a medium bowl. Add chicken; turn to coat. Remove the chicken from the sauce and transfer to the prepared broiler pan; sprinkle with 1/4 teaspoon salt.
Broil the chicken until the coating is charred in spots, 12 to 15 minutes. Turn the chicken over and continue cooking until it is slightly charred and cooked through, 12 to 15 minutes more.
Meanwhile, combine mango, onion, mint, vinegar, brown sugar and the remaining 1/4 teaspoon salt in a medium bowl. Serve the chicken with the mango salad.
Tips & Notes
Note: Garam masala is a fragrant blend of ground spices commonly used in Indian cooking. It's in the spice section of most supermarkets and specialty stores.
Nutrition
Per serving: 289 calories; 12 g fat (3 g sat, 5 g mono); 101 mg cholesterol; 16 g carbohydrates; 29 g protein; 1 g fiber; 308 mg sodium; 403 mg potassium