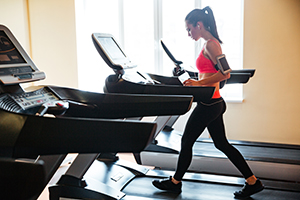 So you've been thinking about purchasing fitness equipment for your home. Maybe going to the gym is inconvenient, or you'd just prefer to do your workouts in the privacy of your home. But, there's so many different types of equipment to choose from – where do you start? Choosing the best exercise equipment for your workouts isn't easy – but this guide should help simplify the process for you.
Choosing the proper exercise equipment is an investment in your health, and will provide you with years of training. And, with the right equipment, you may get even better results than your local gym. The first step is knowing what you want to accomplish, then matching equipment to your workout goals.
Types of Fitness Workouts
Basically, you can summarize your workouts into two types – Cardio, and Strength Training. Cardio equipment is great for building endurance, burning calories, and loosing weight. Strength equipment is just that – equipment for building muscle, strength, and increasing metabolism.
Types of Cardio Equipment
Types of Strength Equipment
Home Gyms – Home gyms are probably the most popular piece of home strength equipment out there – due to their versatility and convenience. The Tuff Stuff Six Pak Trainer fits in a very small space, yet gives you a total body strength workout. These are also great for beginners, as well as those that would not have spotter available, as they are also very safe to use.
Weight Benches – If you prefer to lift free weights such as dumbbells or barbells, having a quality weight bench is vital. An adjustable weight bench also allows you to adjust the angle you're lifting at – great for chest workouts.
Dumbbells and Barbells – Using free weights allows you to engage additional muscles that machines don't always hit – so if your strength training program is more advanced, using dumbbells and barbells can increase your workout success.
Racks and Cages – For more advances strength workouts, using a rack or cage allows you to do squats and dead-lifts, and when combined with a bench, upper body lifts such as military presses and bench presses – all in the safety of a cage that limits your movement to a range you can control.
At Fitness 4 Home Superstore, we carry a full range of cardio and strength equipment choices from the fitness industry's top manufacturers. Stop into any of our three Phoenix area locations to find that perfect fitness equipment choice for your home gym.