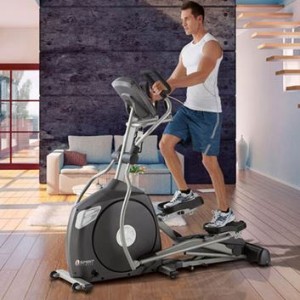 Thinking of buying a new elliptical machine? They can be an excellent asset for an effective (and, dare we say, fun) workout that offers a lot of flexibility and variety. But they come in many forms and price ranges, with a whole array of possible options and features, so it can be tough to figure out which one would be best for you. We've spotlighted a number of ellipticals that we carry.
To help narrow down the field, we've chosen a few of our most popular elliptical machines here at Fitness 4 Home. We feel confident that you would be pleased with the results you get from any of these machines, but the best choice for you will depend on your goals, workout preferences and budget.
Spirit XE 395: One of our most affordable elliptical models, the XE 395 still offers a nice workout, especially for the casual user or beginner. It's a traditional-style machine, and offers some nice extras as opposed to the more basic Spirit models, such as an incline ramp and remote incline adjustment features. There are a number of program options, which are easy to use thanks to the bright LCD console.
True M30: If you are short on space but don't want to skimp on your workout, this machine offers the best of both worlds. It has one of the smallest footprints of all the ellipticals on the market, yet still offers everything you need for a great total body workout. You can also enjoy TRUE's virtual training program, Cardio360, which is like having your own personal trainer built right into the machine.
Precor EFX 447: For the closest thing you can get to a fitness center workout in the comfort of your own home, check out the EFX 447. It's a commercial grade machine designed with all of the convenience and comfort a home user could want. Part of Precor's Precision series of machines, this elliptical has the technology to help you personalize the workout that is perfect for you. You will enjoy the motorized CrossRamp feature, and the Variable Stride Geometry allows for a more comfortable, effective and ergonomically correct workout.
True 900: One of our most top-of-the-line machines, this model is for someone who takes their workouts seriously. Though feature-packed, its innovative design allows for a smaller footprint when compared to similar machines. It offers everything you'd expect in a high-quality machine, including True's patented Core Drive system, and the ability to choose from three different positioning arrangements.
These are just a few examples of the many elliptical machines we can offer you. With our wide variety of machines from a number of different vendors, we can help you select the machine that is the perfect match for you.
To learn about these and other elliptical machines for your Phoenix area home, contact Fitness 4 Home Superstore.