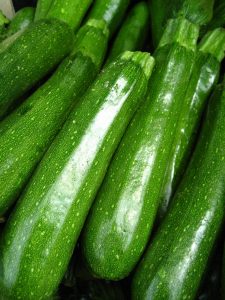 This pretty zucchini tagliatelle salad gets its name from the long slices of zucchini, which resemble tagliatelle pasta.
You might be surprised to know that consuming zucchini will help you to lose weight considerably. Zucchini is extremely low in calories, but it gives you the feeling of being full. Therefore, zucchini is a great way to satisfy your appetite without grabbing calories and starting a crash diet plan.
6 small to medium zucchini (about 1 1/2 pounds total), trimmed
1 large cucumber (about 13 ounces), peeled, seeded, diced
1 C finely chopped Vidalia or Maui onion
1 1/2 C (loosely packed) fresh mint leaves, coarsely chopped, divided
2 tsp finely grated lemon peel
4 T fresh lemon juice
2 T pistachio oil
Using mandoline or V-slicer and working with 1 zucchini at a time, thinly slice lengthwise, discarding first strip. Slice up to seeded core; turn zucchini and continue to slice until only rectangle of seeded core remains; discard core. Place slices in medium bowl.
Add cucumber, onion, 1/2 of chopped mint, and lemon peel. Whisk lemon juice and pistachio oil in small bowl, then pour over zucchini mixture; toss to coat. Season with salt and generously with pepper. Cover zucchini mixture and refrigerate at least 1 hour and up to 3 hours.
Sprinkle remaining chopped mint over salad and toss to coat.
Number of Servings: 6
Nutritional Information
Calories 83, Total fat 5g, Saturated Fat 0g, Cholesterol 0mg, Sodium 15mg, Carbohydrate 9g, Fiber 3g, Protein 2g