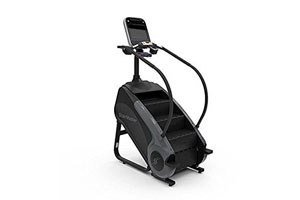 Steppers, also known as StepMills or Stair Steppers, are an incredible piece of cardio equipment. Here's some reasons why you look at using a stepper for cardio workouts.
Steppers are Great for Toning Your Lower Body –
Exercising with a stepper utilizes the same muscles needed to walk or climb stairs. Since there is a slight resistance that your legs must push against with each step, exercising with one regularly can help tone the lower body muscles, including the glutes, hamstrings, quadriceps and calf muscles.
Steppers are Great for Cardio Training – Steppers duplicate the movement of climbing stairs. And, climbing stairs is one of the most efficient and effective ways to get in a great cardio workout and also build strength at the same time.20 minutes on a stepper heps to maximize your cardio time, as you elevate your heart rate quickly.
Steppers are Low Impact – Unlike running on a treadmill, climbing the stairs on a stepper or stepmill, eliminates the jarring movement that you would otherwise experience using a treadmill. This takes pressure off your joints and ligaments.
Steppers Build Balance – Just the simple act of stepping up onto the next step requires more balance than running on a flat surface. You'll build and strengthen additional stabilizer muscles, tighten and tone your core muscles, and improve your overall balance.
Steppers Can Assist With Weight Loss – Building additional muscle means your body requires more fuel, and speeds up your metabolism. As long as you're eating a healthy diet, and taking in less calories than you're burning, adding muscle means you'll burn additional body fat.
Steppers / Stepmills are perfect for your home gym, taking up less space than a treadmill, while providing additional benefits. Stop into any of Fitness 4 Home Superstore's three Phoenix area locations – and check out steppers from brands such as Spirit Fitness, StairMaster, Jacobs Ladder, and Precor Fitness.