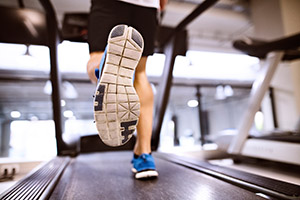 We all know the main reasons why people exercise. It may be to improve cardiovascular health, build muscle, or get that summer beach body. But, there are a number of health benefits of exercise beyond just "looking good" that are just as important as those reasons – and for many, may be even for important!
Stress Reduction – When you exercise, your body increased production of norepinephrine – this chemical is responsible for moderating the brain's response to stress. And, working up a sweat also allows you to focus your mind for a time on something other than what is causing you physical and mental stress.
Increase your body's production of endorphins – Endorphins are a chemical your body produces that give you feelings of happiness and euphoria. Have you heard of a "runner's high?" That's endorphins! Studies show that exercise can reduce symptoms among the clinically depressed. Doctors are recommending that patients exercise 30 minutes a day for those suffering from depression or anxiety – as exercise can (in some cases) be just as effective as antidepressant pills. If you suffer from depression or anxiety – don't just stop taking medication – you should always talk to your doctor first. The point is – regular exercise has proven to make you feel better!
Boost Brain Function – If your mind is sharp now – keeping a regular exercise regime is being shown to keep your mind working well as you age! Working out, especially between the ages of 25 and 45, boosts chemicals in the brain that support and prevent degeneration of the hippocampus – a part of your brain responsible for memory and learning. And research is now showing in tests that cardiovascular exercise can create new brain cells and improve brain performance, as it increases levels of BDNF. Believed to help with decision making and learning.
Gain Self Confidence – As your fitness improves, and your body feels better and healthier, it's natural for us to automatically elevate our personal perception of self image and self worth – regardless of weight, size, gender or age. If you feel attractive, your self confidence improves!
Overall – all of the above can also have positive impacts on your relationships, your career, and lead to a healthier, happier live. And, Fitness 4 Home Superstore has the equipment that can help! Visit one of our valley showrooms today in Scottsdale, Chandler and Phoenix – and find the fitness equipment that can help you achieve your goals of better fitness – and a better life!