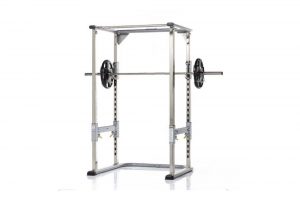 Take your bodybuilding workouts to the next level with a Power Rack. A power rack is a large, rectangular cube-shaped piece of equipment made from steel which allows you to efficiently and safely perform any number of heavy barbell exercises. A great example of a budget friendly power rack for your home gym is the Tuff Stuff CPR-265 Power Rack.
Why should you have a power rack for your home gym? Using a power rack eliminates the need for a spotter. If you train alone, it's vitally important that you do so safely. A power rack provides safeguards that you need to when moving heavy weight without a spotter. And, since you can set the safety catches to any height, using a power rack allows you to target a specific range of motion in your workouts.
Home workouts have never been easier or more effective with the TuffStuff CPR-265 Power Rack! TuffStuff design innovations and quality construction like on the CPR-265 Power Rack have been setting industry standards on home strength products for over 30 years. If you're ready to work out in the comfort and privacy of your own home without sacrificing on the quality of your equipment, TuffStuff is the right choice for you.
The CPR-265 features spring loaded/swing lock J-Hooks (Pat. Pend.) that adjust in 3" increments. And, lever action pull-pin safety stoppers offer fast and easy safety bar adjustments tested to 800 lbs. weight load capacity.
Check out the Tuff Stuff CPR-265 Power Rack page on our website, or stop into any of Fitness 4 Home Superstore's 3 Phoenix area locations to learn more!