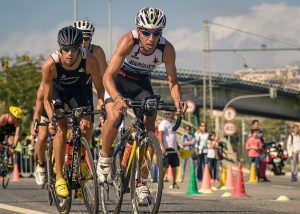 Triathlon has been around for over 35 years, and many people look at it as a "gruelathon". The premier triathlon is the Hawai'i Ironman Triathlon every October in Kona, HI – and this event is one of the more difficult triathlons out there, combining a 2 mile open water ocean swim, 112 miles on a bicycle over lava fields, and finally a full 26.2 mile marathon – all done in one day. But, that doesn't mean that you have to try to compete at that level – in fact, training for a small, local triathlon is a great way to help you achieve your fitness goals! The only equipment you need to start – is running shoes, a swimsuit & goggles, and a bike & helmet!
Think about it – as kids, we all did triathlons daily. Our parents would take us to swim lessons in the morning, and we'd ride our bikes and run around the neighborhood with our friends – and we were all in pretty good shape, And, we never thought about the exercise we were getting – we were just having fun! That's what training for a triathlon can do for you. It's a great way to avoid boredom while you train! If you get tired of running – well, that little bit of cycling helps break the monotony, and you stay on your program!
Another advantage of training for triathlons is it's a great way to avoid muscle imbalances and repetitive-use injuries. You strengthen the upper body with the swim, and the lower body with the bike and run. And, you mix weight-bearing exercise of high-impact running, with low-impact swimming. And, the strength you build on the bike will give you more for your running, and visa versa.
You also get to meet wonderful people – triathlon is as much a lifestyle as it is a sport. There are no shortcuts to getting fit for a triathlon – and there is a given, mutual respect that comes out of that training. Friendships built are solidified through group training sessions and competiting together! And, these friends become your support network to help you achieve your goals.
Finally, setting your training goals for your triathlon training makes you accountable to your fitness program, and the more you achieve, the more you get motivated to set new ones. Plus, there's something about being able to tell people, "I'm a triathlete!". It suggests a person has a certain character, focus and determination that translate to all areas of your life!
There are plenty of additional resources that can help get you started.
A great way to start training is at home with a home treadmill and home exercise bicycle from Fitness 4 Home Superstore! Visit www.fitness4home.com to see our current selection.
Get recommendations for a coach at www.usatriathlon.org – and some coaches can work with you via email or phone!
A couple of web sites that can help you with training and racing information
Information about women-only events can be found at www.irongirl.com