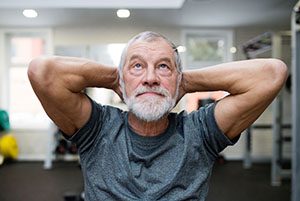 You've spend your life working, raising kids, and now it's time to enjoy the fruits of your labors, and enjoy your retirement. It's important that now that you enjoy the most out of your time off, and keeping yourself fit and in shape is even more important now!
But, when was the last time you exercised? Many retirees say the last time they exercised on a regular basis was when they were in high school or college. Without much experience exercising, it's important not to just jump into playing a sport or doing other moderately intense physical activity. Instead, first see your doctor and get their recommendations for what your body and health can handle, then ease into an exercise routine. As you get more comfortable exercising, you can increase the frequency and intensity.
What's great about starting to exercise now, is you can regain some of the flexibility, endurance, and strength that you've lost over the years. You may want to start out by hiring a personal fitness trainer that can help you not only learn what exercises you can do to meet your fitness goals, but also show you how best to do them to avoid injury.
But, it's also important to have a goal in mind. What do you want to accomplish with exercise? Having a goal can keep you motivated. If it's to spend more time playing with your grandkids, the exercises you may want to do could be different than those for improving your golf game. Talking to a personal trainer can help you choose the best exercises for your personal goals.
Regular exercise can help you to reduce the risk of early death, helps control weight and lowers the risk of heart disease, stroke, type 2 diabetes, depression, some types of cancer, anxiety disorders, cognitive decline and hip fractures. It can help improve sleep, memory, concentration and mood. Recent research showed physical activity may be as effective as medication in preventing early death in people who've had heart attacks or strokes.
Cardio exercises are great for weight control, as well as improving your cardiovascular health, building endurance, and improving flexibility. Walking or running on a treadmill, using a rowing machine, or working out on an elliptical trainer are great ways to add cardio to your workouts. And equipment such as elliptical trainers, as opposed to a treadmill, are great for those that may suffer from hip, knee, or other joint pain.
Strength exercises are great for functional fitness, where by using free weights or a home gym, you can improve balance, coordination, endurance, and strength for what you do daily – like carrying groceries, reaching for things, getting in and out of chairs or the car, or going up and down flights of stairs.
Good guidelines to consider are:
Get at least 24 hours per week of moderate physical activity, such as brisk walking, or vigorous activity such as joggging or swimming laps – or combine both and split the difference.
Get some strength resistance / muscle strengthening exercises at least twice a week. This includes exercises that target your chest, back, shoulders, legs and core. You can do this via calisthenics for resistance, weight machines, or free weights.
Just because you're older, doesn't mean you should do less. Strive to get your workouts to be the same as other adults, as long as you can perform them safely and without injury. For example, if you find you are at risk for falling, do more exercises that can help you improve your balance.
Examples of moderate-intensity activities for adults:
Walking briskly, 3 miles an hour or faster
Water aerobics
Bicycling slower than 10 miles per hour
Tennis (doubles)
Vigorous-intensity activities for adults:
Jogging or running
Swimming laps
Tennis (singles)
Bicycling 10 miles an hour or faster
Once you've got a routine in place, you may find it's more convenient to do your workouts at home. Fitess 4 Home Superstore can help you find the perfect fitness equipment for your workout needs. Visit any of our three Phoenix area locations, and check out our full line of the industries top fitness equipment!