New! Spinner® Bikes by Precor!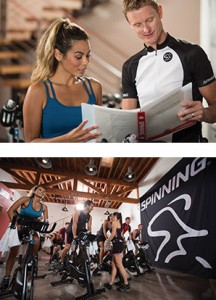 Gear up your Spinning® classes like never before.
Precor Spinner® Bikes gives you the reliability, durability, and customer support you expect from Precor one of the premier fitness brands in the industry. You can trust a brand that is backed by more than 20 years of industry insights, education and programming from Spinning®.
Precor Spinner® Bikes include features like Morse taper pedals, numerous adjustments, stainless steal and aluminum frames, and a heavy flywheel, these bikes are designed to improve and personalize the ride and longevity of every bike you purchase. Give yourself the riding experience you've always dreamed.
Experience-driven design to protect your investment
Each Spinner® bike takes into account the reliability requirements you expect when purchasing fitness equipment. Together Precor and Spinning® designed these bikes to be rust resistant, durable and easy to service.
Aerodynamic and rounded tubing prevents pooling of liquids on flat surfaces for corrosion resistance, while maintaining a premium look.
Stainless steel and aluminum adjustment posts, fasteners, and frames provide a rust-resistant and sturdy frame for longevity in high rust-prone areas.
The open base and aluminum stabilizers provide for easier cleaning, maintenance and more rust-resistance under and around the bikes.
Spinning® Studio Console
An easy-to-read LCD console can be added to any model of Spinner® bike. Automatically pairing with any ANT+ compatible heart rate monitor, the console features:
Backlit display
Code memory during battery replacement
Low power consumption
Console Readout:

Cadence (Pedal RPM)
Heart rate/Pulse
Time
Distance
Calories
Low Battery Indicator
3 Bikes – Pick the best for your fitness needs!

Spinner® Ride Indoor Cycle
Superior feel from our perimeter weighted flywheel
Experience driven design makes Spinner® bikes more reliable
Features exerciser and operators expect
Spinner® Shift Indoor Cycle
Superior feel from our perimeter weighted flywheel
Experience driven design for reliability
Heavy duty steel frame
Spinner® Rally Indoor Cycle
Perimeter Weighted Flywheel
Experience-driven Design
Aluminum Frame with fore/aft handlebar adjustment
Want to learn more about the new line of Precor Spinner® Bikes? Visit any of Fitness 4 Home Superstore's 3 locations here in Phoenix, Scottsdale, or Chandler.